Information Session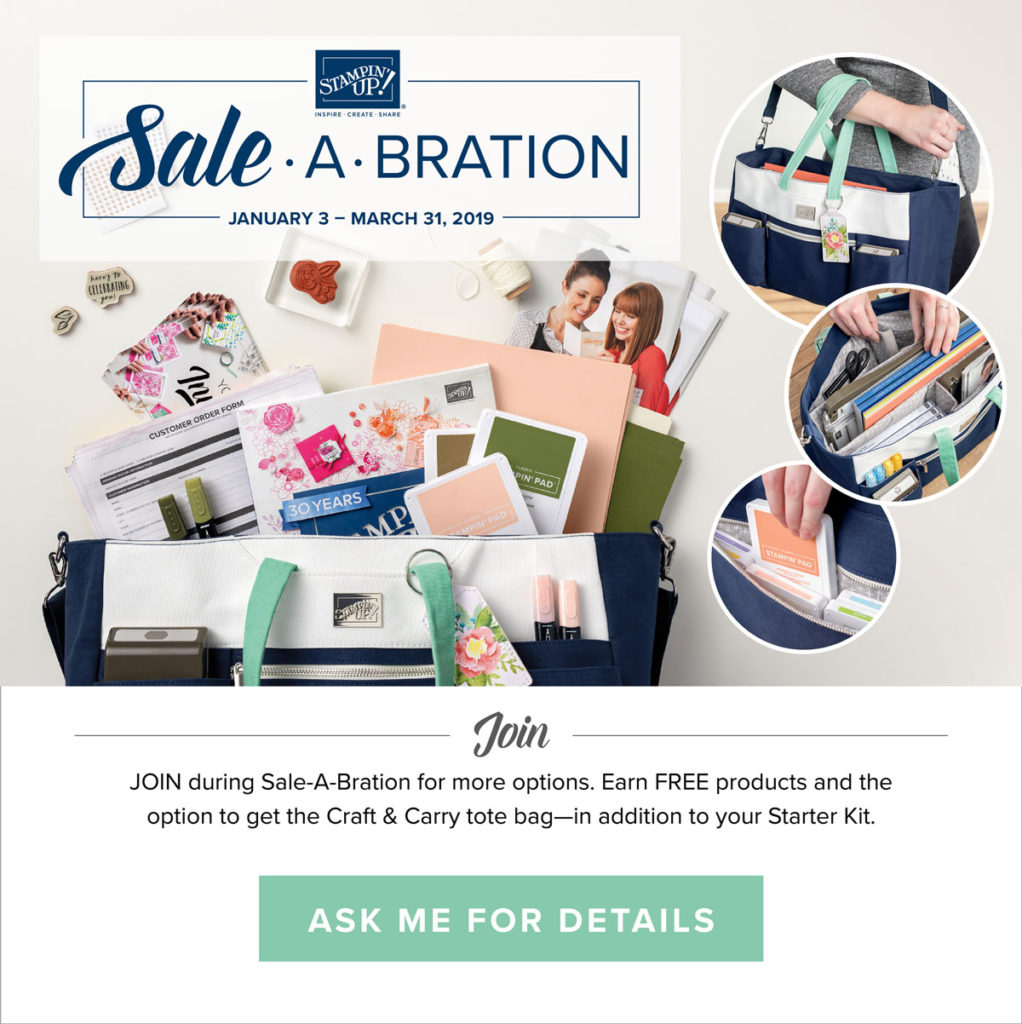 There are SO many options when you become a Stampin' Up! demonstrator!! From a full time business to a craft hobby and anything in between.
So I want to invite you to an information session where everything will be revealed. You will have a chance to get all your questions answered and decide if this is for you – or not. NO pressure, all info!
This is Sale-a-Bration time so you get even more perks when you sign up, including the option to get this great Craft and Carry Tote as a discount. So now is a great time to get more information.
Wednesday, February 20 at 7:00 pm
Register here
Why become part of Team Flourish
When you purchase the Stampin' Up! starter kit, you enjoy many perks:
Commission that starts at 20% and increases as your business grows. Of course that means that you also get your own supplies at a discount.
VIP access: you are the first to see the catalogues and play with new products.
Opportunity to earn vacations and free products.
Exclusive website full of stamping samples.
Opportunity to attend amazing events twice a year.
Full colour quaterly magazine with techniques, stamping inspiration and more.
Plus these extra perks when you join Team Flourish:
Facebook group: where we socialize but also receive information you need to keep up to date on what's happening in our team, in Stampin' Up! and more.
Team meetings: Every month on the 2nd Thursday, we come together as a group to learn, share and grow.
Goal setting and Accountability: I am here for you!
Membership in the Stamping Business Basics Program: My business coach, John Sanpietro, has been working with stamping business owner for almost 20 years. He is the creator of a fantastic, six month program covering all the basic foundation topics you need to get your business off to its strongest start. This program normally costs $42, but it is my gift to you.
Free Access to the Stamping Business Plan Class: This online class will guide you step by step in building your business plan. Normally $37, but free to you.
Ongoing Guidance and Mentorship: As your business grows, and you grow as a business owner, I'll be there to help you navigate unfamiliar territory, flatten the learning curve and avoid the pitfalls associated with any growing business.
Purchasing the Stampin' Up! starter kit is a fantastic DEAL* and there is no risk, just benefits!
Why wait? Do it for the earnings, the savings or just for the FUN of it!
* The starter is is $135 for $165 worth of products of your choice plus business supplies (catalogues, order forms etc… ) – a total value of $235. No tax (in ON), no shipping.
Or connect with me to discuss further. I will be more than happy to answer all your questions and/or concerns and see if Stampin' Up! is a good fit for you. No pressure! This opportunity is for YOU to make it what you want.